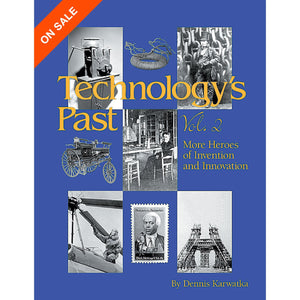 Technology's Past, Vol. 2—More Heroes of Invention and Innovation
$1995

$19.95
Tax included.
---
---
". . . a fascinating and diverse collection of talented people. . . . Anyone interested in the history of technology will find this a useful and interesting reference." —Science Books and Films / National Association for the Advancement of Science
By Dennis Karwatka
This book features profiles of 81 inventors and technologists whose creativity, hard work, and persistence changed the way people live. As in the best-selling first volume of Technology's Past, author Dennis Karwatka traces the development of technology and industry through the fascinating—often inspiring—lives of the people behind the innovations. The book also presents intriguing details on the day-to-day lives of people in earlier times and discusses how the innovators' work impacted them.
Those profiled include such people as automotive pioneers Charles Duryea, Walter Chrysler, Karl Benz, and Charles Rolls and Frederick Royce; household innovators Count Rumford (the Rumford Roaster, drip coffee maker, steam-heated radiator), Eli Terry (accurate, affordable clocks), Catharine Beecher (house design), Isaac Singer (sewing machine), Erastus Bigelow (carpets), computer pioneers Charles Babbage, Ada Lovelace, Howard Aiken, and Grace Hopper.
Features include:
Easy to understand, technically accurate explanations of inventions and technical processes.
An upbeat view of the human side of the history of technology.
Annotated list of the best sources for research in the field.
Large format, with many illustrations.
A proven winner with adults and students alike.
A bonus section at the book's end presents overviews of 19th century technical fairs (World's Fairs), the history of women involved with technology in the 19th century, technology-related World Heritage Sites, and the growing field of industrial archaeology.
Dennis Karwatka is professor emeritus, Department of Industrial and Engineering Technology, Morehead (KY) State University.
---
We Also Recommend