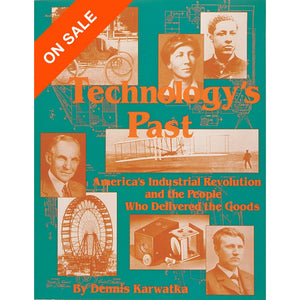 Technology's Past, Vol. 1—America's Industrial Revolution and the People Who Delivered the Goods
$1995

$19.95
Tax included.
---
---
"Written in an enjoyable style . . .this technological history is fascinating."—Choice
By Dennis Karwatka
Important inventors and technologists have too often disappeared into the ranks of American history's unsung heroes. Now, Technology's Past brings their fascinating stories to life!
Dennis Karwatka presents biographies of 76 individuals and two notable vehicles (the winner of the first around-the-world car race in 1908 and America's first steam locomotive). In addition to facing huge technical challenges, those profiled often struggled against material hardships and the skepticism of their peers. The author shows how, through initiative, creativity, and persistence, these people succeeded in producing innovations—sometimes quite amazing ones—that bettered the lives of many.
Technology's Past profiles such recognized innovators as the Wright Brothers, Henry Ford, and Thomas Edison. It also features others who, in spite of their significant and interesting contributions, are not well known today. They include such people as John Deere (polished-steel plow), Cyrus McCormick (reaper), Charles Kettering (automotive self-starter), and Ole Evinrude (outboard motor).
The author gives clear, technically accurate descriptions of inventions and innovations in a way that makes them easy to understand. Technology's Past makes a great gift for anyone interested in history or the evolution of our technology.
---
We Also Recommend