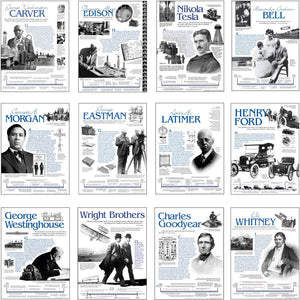 Technology's Past Posters
$10995

$109.95

Save $45.45
Tax included.
---
---
These stunning posters depict the people and inventions that changed our lives forever. The Technology's Past Poster Series documents the hard work and persistence of creative dreamers who overcame hardship and skepticism to produce marvelous innovations that have changed our world. Series of 12 includes:
Alexander Graham Bell
George Washington Carver
George Eastman
Thomas Edison
Henry Ford
Charles Goodyear
Lewis Latimer
Garrett Morgan
Nikola Tesla
George Westinghouse
Eli Whitney
Wright Brothers
All posters are 18" x 24" and printed on glossy poster stock.
---
We Also Recommend